Bright Artists brings classical drawing and painting instruction directly to kids.

Bright Artists exists to reach out to students who, due to financial or family limitations, cannot attend private lessons at a studio. We teach realistic, fine art drawing and painting skills to elementary school kids where such instruction fills a need and is welcomed. Creativity can be a light in the dark. Through providing the highest quality of instruction within a flexible structure that meets the needs of individual communities, we seek to tangibly feed the fire of creativity within our local youth, and to watch those artists shine.


Powered by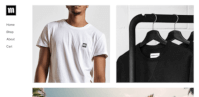 Create your own unique website with customizable templates.